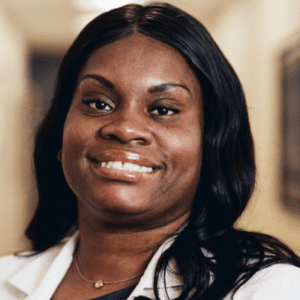 Nurse Practioner Temeria Wilcox
LEONARDTOWN, MD (March 22, 2022) –NP Family Practice has signed a lease agreement to open a comprehensive public health clinic at Cedar Lane Senior Living Community, the leading choice for affordable retirement living in St. Mary's County. For the residents of Cedar Lane, this affiliation offers onsite access to high-quality, compassionate health care services.
"Having routine and preventative care available on our campus will be a game changer for residents with transportation issues," said Eric Golden, president and CEO of Cedar Lane. "This agreement brings many of the healthcare services these residents require right to their doorsteps."
NP Family Practice has been in business for three years. The group's medical clinic at Cedar Lane will offer a variety of services to include primary care, sick care, home visits, virtual visits, COVID-19 testing and treatment. By collaborating with a local mobile radiology company, they will even offer home imaging services such as x-rays and ultrasounds. The group's overall goal is to be accessible to residents and to prevent unnecessary emergency room visits.
NP Family Practice is led by Temeria Wilcox, MSN, FNP-C, board-certified by the American Academy of Nurse Practitioners and licensed by the state of Maryland. Wilcox's health care career spans more than 20 years, and has taken her from urgent care and emergency room experiences to family medicine and community health.
"I am most excited about this partnership with Cedar Lane because the overall vision of NP Family Practice is to meet patients where they are," Wilcox said. "By focusing on disease prevention and health management, we hope to build long relationships with the people we serve at Cedar Lane Senior Living Community."
NP Family Practice's Medical Clinic at Cedar Lane will serve the public. Accepted insurances include Medicare, Blue Cross Blue Shield, Aetna, Cigna, GEHA, Maryland Medicaid and Amerigroup. The target opening is the first week in April, pending Maryland State permitting. The clinic will offer operating hours from 1 p.m. to 4 p.m. Tuesdays and Thursdays, with an expanded schedule available if demand calls for it.
About Cedar Lane
Founded in 1977, Cedar Lane Senior Living Community is a collaboration of 501(c)(3) non-profit organizations providing affordable housing to seniors and disabled adults. Situated in the heart of Leonardtown, Maryland, the campus features 195 apartments where residents can live independently while enjoying onsite amenities, optional hospitality services, service coordination and a full calendar of life-enriching activities. For more information, visit www.cedar-lane.org, call 1-301-475-8966 or visit in person at 22680 Cedar Lane Court.