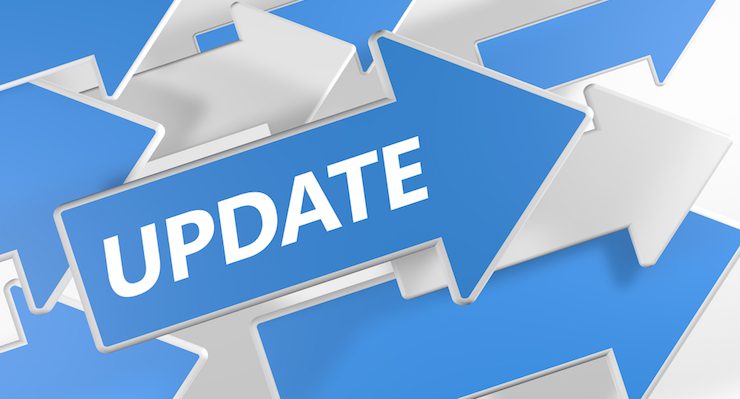 Dear Cedar Lane residents, families & friends,
I've had the pleasure of speaking with several residents over the past two weeks, and what I'm hearing is that while they look forward to the time when life at Cedar Lane can return to what it was before March, they are appreciative of the steps we are taking to keep everyone as safe as possible.
We still have no known cases of COVID-19 on our campus. We will continue to take a conservative approach to loosening restrictions and allowing services to reopen while following the guidance of local and state health authorities, and the Centers for Disease Control and Prevention (CDC).
Three W's to ward off COVID-19: wearing a mask, washing your hands, and watching your distance.
A few residents have grown very impatient with the mask mandate. We get it – we are all weary of the need for face coverings. Now is not the time to let down our guard. St. Mary's County is experiencing multiple outbreaks, several of which originated at small family gatherings. Cedar Lane is home to people who are medically vulnerable. If you won't comply with Maryland's mask order for yourself, please do it to make your neighbors feel more secure. Think about the repercussions of not wearing a mask. Not only are you creating more work for staff who have to clean and sanitize behind you, but imagine how you might feel if you are an asymptomatic carrier who passes the virus off to others. Isn't it worth the minor inconvenience of a mask to ensure the wellbeing of your neighbors?
The Big Raffle Concluded Today
Today marked the grand prize drawing in The Big Raffle, a six-week fundraiser hosted by Friends of Cedar Lane. For the first year in the Raffle's history, we sold all 400 tickets and raised approximately $27,000 for the residents of Cedar Lane. Pat M. of Florida was the lucky grand prizewinner of today's $10,000 grand prize drawing. Thanks to everyone who bought a ticket and supported our fundraiser.
Cedar Lane's Annual Meeting will be held on Monday, October 26 at 10 a.m.
All residents, employees and directors are considered members of our organization and are encouraged to participate. Due to ongoing public health issues arising from COVID-19, the Annual Meeting will be conducted by conference call this year. We hope you will call in and listen to the formal proceedings of the Annual Meeting, followed by a brief business update of the organization and election of board members who will take office January 1, 2021. Annual meeting materials, including biographies of the candidates, were distributed to all residents on Thursday. At the end of the meeting, three participating residents will be randomly chosen to win $50, $75 or $100 off rent. If you plan on calling in, please let us know in advance by calling the Front Desk and asking for Wanda.
 CDC Eviction Moratorium
To prevent the further spread of COVID-19, the CDC has issued an order that puts a temporary halt to residential evictions of covered persons for nonpayment of rent now through December 31, 2020. In order to be eligible for the order's protections, renters must provide an official declaration under penalty of perjury to their housing provider indicating the following:
You have used best efforts to obtain rental assistance
You expect to earn no more than $99,000 (no more than $198,000 when filing jointly), you were not required to report income in 2019 to the IRS; or your received a stimulus check pursuant to the CARES Act
You are unable to pay your full rent due to a number of factors that remain unconnected to COVID-19
You are using best efforts to make timely partial payments
Eviction would likely render you homeless or force you to move into and live in close quarters in a new congregate or shared living setting because you have no other available housing options.
The CDC moratorium does not mean you don't have to pay rent, and you may be subject to late fees when the eviction protection ends. Residents behind in their rent should be trying to work out a payment plan. If you need a sample of an official declaration, or other guidance regarding this eviction moratorium, please call the Front Desk and ask for Christine Senese.
Voice Your Choice
Cedar Lane Senior Living Community has been nominated in the nonprofit category in the SoMd News Reader Approved 2020 contest. If you would be so kind, please take a moment to vote for Cedar Lane as your favorite nonprofit by visiting https://www.somdnews.com/contests/. Thank you all for the support!
Farewell to Kathy Jaros
Last but certainly not least, Cedar Lane will soon be bidding a fond farewell to longtime employee Kathy Jaros, who is retiring after dedicating a total of 28 years to serving the residents of Cedar Lane. A feature article about Kathy is attached to this update. It has been an absolute joy to have Kathy as part of our team and she will be greatly missed.
We send you every best wish for the future, Kathy!
Sincerely,
Beverly Stickles
President & CEO 
Cedar Lane Senior Living Community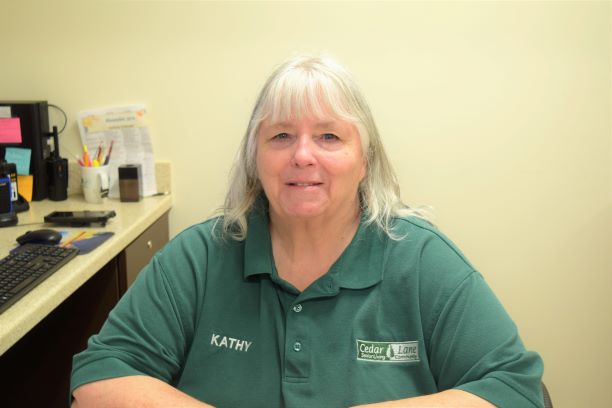 It is with sincere and heartfelt appreciation for her hard work and dedication that we say goodbye to Kathy Jaros, who is retiring from Cedar Lane after 28 years of service.
Kathy started her Cedar Lane career as a nursing assistant in the clinic, performing patient care tasks, housekeeping and laundry functions and coordinating community services for residents.
"Things have changed a lot," Kathy said wistfully. "Back then we didn't use computers. All of our resident information was hand-written on Rolodex cards. We used to take turns sitting in a tiny office that is now the electrical room to monitor the alarm board. If someone pulled an emergency cord, the board would light up and play a loud alert sound. We would have to turn it off manually and go check on the resident."
In December of 2000, Kathy was invited to work the Front Desk, and she has remained a part of the Front Desk team for the past 20 years. Kathy has fond memories of the Cedar Lane restaurant, which would draw the local doctors, members of the Sheriff's Office and other professionals at lunchtime. "Everyone came here to eat. Even actress Helen Hayes ate in the Dining Room while she was here visiting a resident." That same resident was also visited by Nancy Sinatra, according to Kathy.
Some of Kathy's strongest memories involve a former boss who wore the signature scent of Chanel #5. "She always dressed to a tee and always wore Chanel #5 perfume. When you smelled it, you knew she was coming," Kathy remembers. Other favorite memories include all the Fall Festival events at Cedar Lane, and the recent weekly produce markets hosted by Historic Sotterley.
"Those events were a good time for everyone. The Friends of Cedar Lane really do good work when it comes to bringing people together," she said.
When asked what advice she would give to any new staff members Kathy said, "The need to be flexible. Things are always changing so you need to be ready for changes."
What will she miss the most about Cedar Lane? "The people. We've got a lot of good people here."
So what is next on the horizon for Kathy? "Well my sister Judy thinks I'm going to spend all my time watching Christmas movies on the Hallmark channel. I told her I've already been doing that since July!" Kathy went on to say she is going to take until the end of the year to relax, and catch up with family members. After that, she is ready for new adventures and new possibilities.
November 1 will be Kathy's last day at the Front Desk. "I know I will be busting up crying, so I don't want anyone to make a big deal out of it," she said. "I've cried at goodbye parties for other people, so I can't imagine what my last day is going to be like for me."
Enjoy your retirement, Kathy. You will forever be a part of Cedar Lane's story.