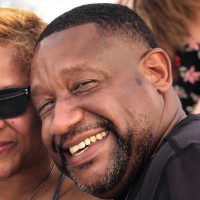 Meet Eric Golden
President & CEO of Cedar Lane Senior Living Community
Cedar Lane is thrilled to welcome Eric Golden as our new President & CEO. Eric comes to Cedar Lane from Mount Royal Towers in Homewood, Alabama, where he served as Director of the community's Activ-Care Living since March 2017. There he was responsible for the overall daily operation of the community.
Prior to his years with Mount Royal Towers, he served as District manager for Healthcare Services Group based in Bensalem, Pennsylvania from 2012 to 2016. There he oversaw supervision and management of more than 16 long-term care facility contracts, including 22 management team members in Alabama, Mississippi and Florida.
From 2010 to 2012, Eric served as Associate Executive Director for Towne Village Retirement Community in Vestavia, Alabama. In this role, he supervised a 70-bed independent living facility, coordinating the efforts of several departments including activities, dietary, maintenance, transportation and housekeeping.
"I am grateful to accept a leadership position with Cedar Lane — a well-established and respected organization with an impressive history of serving seniors," says Golden. "My goal in leading this organization is to build on the achievements of the past 44 years. I am looking forward to getting to know you all in the coming weeks."
Fun Facts about Eric: 
Married 27 years
Two sons and two grandchildren
A former marine
Licensed Category II Administrator in Alabama
Loves SEC Football
Interesting family tidbit: Before his family moved to Birmingham, Alabama, Eric's older siblings attended school with the Jackson 5 (specifically Marlon, Jermaine and Tito Jackson) in Gary, Indiana.
Dear Cedar Lane residents, families & friends,
Earlier today, the Health Department conducted the last of three COVID-19 vaccine clinics on our campus. I am grateful to every resident, staff member and caregiver who participated, and for the hardworking healthcare workers who made these vaccines possible. If you did not receive the vaccine and wish to do so, the vaccine is available from local pharmacies and the St. Mary's County Health Department. We currently have no known cases of COVID-19 at Cedar Lane!
Revised Quarantine Requirements
It's not the end of the COVID-19 pandemic by a long shot, but we do see a light at the end of the tunnel. Cedar Lane is revising the mandatory quarantine period for new residents moving in. The new policy will waive the quarantine period for new residents with proof of vaccination and completion of the required waiting period or a negative COVID-19 test result. Everyone's safety and well-being remains our greatest concern.
 Eric Golden Takes Over Daily Operations on Monday
My successor Eric Golden is assuming responsibility for the day-to-day operations of Cedar Lane on Monday, March 1, while I work on wrapping up some ongoing projects and help to provide a seamless transition. The attached feature on Eric will help you get to know him a little better. He's certainly looking forward to meeting his new Cedar Lane family.
 Breezeway Roofing Project
We apologize for the noise! The breezeway that connects the Church and Burch Buildings received a much-needed roof replacement this week. We estimate the previous roof to be more than 30 years old. It had surpassed its life expectancy and was letting moisture into the breezeway. The new roof will see Cedar Lane through another 15 years before the warranty is up.
Lock Replacement Project
I know, I know. We've been talking about the lock replacement project for almost a year. For a host of reasons, this upgrade has proven to be one of our more challenging projects to coordinate. The good news is the locks are here! The installers arrive next week and will begin swapping out the old locks the morning of Saturday, March 6. We will begin at 9 a.m. in the Colton Weinberg Building (Building III) and work ten straight days to make our way through all three buildings, changing out every lock on campus. You will receive a notice specifying the exact date of your lock installation. A member of our maintenance team will accompany the installers as they make their rounds.
Apartment Inspections Resuming
Cedar Lane is resuming regular apartment inspections after suspending them last March due to the health crisis. "Mini inspections" were completed to identify immediate problem areas, but now we must take a closer look at each unit.  We are hoping to complete five inspections a day. Our maintenance team will conduct the inspections, and Emma Morris will notify you in advance that we are coming. The goal of the inspection is to ensure the physical elements of your apartment are in proper working order. Each inspection should take 15 minutes or less. You don't need to be home. If you are home, we will ask you to step into the hallway to social distance. We appreciate your understanding and cooperation.
I hope you managed to enjoy the sunshine and warmer temperatures over the past few days. It looks like it will be a rainy weekend here in southern Maryland. Time to find a good movie or an interesting book!
With Eric Golden assuming his position as President & CEO on Monday, this will be my final community update. Words can't begin to express the role that the people of Cedar Lane have played in my life over the past 17 years. I thank each of you for the support, understanding, memories, laughs and candid comments.  I have always appreciated your honesty and your willingness to reach out to me.  You will not be forgotten!
Sincerely, 
Beverly Stickles