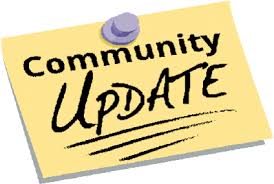 Dear Cedar Lane residents, families & friends,
Happy December, everyone. We have several news items to share within our biweekly update. Despite rising cases throughout the country and high positivity rates in St. Mary's County, we have no known cases of COVID-19 at Cedar Lane.
COVID-19 Vaccine
We've all been hearing a lot about a vaccine, and you probably have some questions. A COVID-19 vaccine was approved for widespread public use in the United Kingdom this week. While the United States has not authorized a COVID-19 vaccine yet, experts believe preliminary supplies will be available before the end of this month. Vaccine supplies will be limited at first. In a proactive measure, I have registered Cedar Lane as a congregate senior living community with the Centers for Disease Control, so that our residents and staff members will be included on the priority distribution list. The vaccine will be offered to our community members through an on-campus clinic administered by Omnicare®, a CVS Health® Company. I am scheduled to participate in an information session on December 7 to learn more about the process. Receiving a COVID-19 vaccine will not be mandatory for Cedar Lane residents, but it is highly encouraged. Stopping this deadly pandemic requires all the tools we have available. The goal of Operation Warp Speed is to deliver safe vaccines that work, but they will only work if you are vaccinated.
Door Lock Project
As you may recall, Cedar Lane's lock replacement project was slated to begin back in October. Due to some issues we encountered with the original vendor proposal, we had to bid the project out twice to comply with our purchasing policies and HUD guidelines. Rebidding the job delayed the process. We have now selected the final bid. A representative from the chosen company will be on site next week to do a pre-installation walkthrough, and the contract should be signed shortly after. I apologize for the delay and promise to keep you posted as the replacement project moves forward.
Apartment Inspections
Our maintenance team has completed visual inspections of all 195 apartments at Cedar Lane. Identified issues have been noted and addressed. If you are experiencing a maintenance issue in your apartment, please call the Front Desk at 301-475-8966 and have the receptionist put in an official work order.
Announcing Ray Shauver's Retirement
I would like to take this opportunity to share with you news that Ray Shauver, Maintenance Technician II, has retired from Cedar Lane after four years of service. Ray was skilled at everything from general repairs and preventive maintenance to basic electrical, plumbing, appliance, HVAC and carpentry work. He could often be spotted in the halls covered in dust or paint from his latest project. While we are sad to see Ray go, we wish him all the best for the future.
Unclaimed SMECO Capital Credit Refunds
SMECO has published a book with a list of former customers who have earned but have not claimed a capital credit refund or other money from SMECO. The book is in the library. Stop by and see if your name is listed. You may discover some found money!
Did You Know?
Both Cedar Lane Senior Living Community and Friends of Cedar Lane are non-profit organizations that have been granted tax-exempt status by the Internal Revenue Service for providing a public benefit.
Deducting Charitable Contributions Made in 2020
Previously, charitable contributions could only be deducted if taxpayers itemized their deductions. Through the CARES Act, those who do not itemize can still take a charitable deduction of up to $300 for cash contributions made to qualifying organizations in 2020. So whether you are supporting a food bank, COVID-19 pandemic aid or another cause that is personally meaningful to you (like Friends of Cedar Lane), your charitable donation can be deducted on your tax return.
What Friends of Cedar Lane Does with Donations
In 2019, Friends of Cedar Lane invested more than $50,000 to fund resident grants, the farmer's market program, the Fall Festival, tenant holiday party, ice cream socials, donut socials, celebratory dinners and facility upgrades. This year, contributions to Friends of Cedar Lane made it possible to treat residents to individual meals from Rita B's Catering, Chaptico Market, Kevin's Corner Café and Cracker Barrel. Donations to Friends of Cedar Lane can be made in honor of a special person or event or in memory of a loved one. For more information, visit our website at cedar-lane.org and click the "Make a Donation" button.
New Residents Move in Saturday, December 5 and Monday, December 7
Movers/family members will be on property to assist new neighbors moving in on the following days: Saturday, December 5 on the first floor of the Church Building beginning at 11:00 a.m., and Monday, December 7 on the third floor of the Burch Building beginning at 9:00 a.m. To avoid any potential spread of COVID-19, please practice social distancing to the best of your abilities. Cedar Lane's standard precautionary measures will be followed, and the new residents will quarantine for 14 days.
Holiday Meal Ideas Wanted
We are starting to plan a holiday meal, which will be safely delivered door-to-door. We want to hear from you. What would you like to see on the menu? What would bring some joy into this unusual holiday season? If you have ideas, please call the Front Desk and ask to speak with Jen. I look forward to hearing your thoughts!
Ugly Holiday Sweater Day – Monday, December 21
Let's get into the holiday spirit! On December 21, residents and staff are encouraged to put on your boldest, brightest, ugliest holiday sweaters. You know — the ones you would be too embarrassed to wear in public. Personally, I don't think there is any such thing as an ugly sweater. This is your chance to prove me wrong!
Sincerely,
Beverly Stickles
President & CEO
Cedar Lane Senior Living Community
P.S. Staff members are delivering meals multiple times a week and we want to keep everyone as safe as we possibly can. Please remember to wear a mask when answering your door. If you need a new mask, see the Front Desk. Thanks!