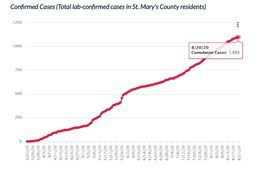 Community Update: August 21, 2020
Dear community members:
Here is your weekly roundup of news items, health updates and facilities improvements coming your way at Cedar Lane.
In need of essentials?
With facemask and social distancing requirements, it's not as easy as it used to be to go out for items like food and medicine. If you are in need of vital supplies, please call the Front Desk and ask for our service coordinators, Kirk or Crystal, for assistance.
COVID-19 news:
We have no known cases of COVID-19 here at Cedar Lane, but cases in our county continue to climb. At St. Mary's County Nursing & Rehabilitation Center just down the street, 22 residents and 21 staff members have tested positive for the virus. Chesapeake Shores in Lexington Park has reported 9 cases. County Commissioner President Randy Guy shared in the County Times that he has tested positive as well. Please continue to protect yourself and your neighbors by social distancing, wearing a face mask and washing your hands frequently.
Flu Shots:
This year the St. Mary's County Health Department is advising seniors to get the flu shot as soon as the vaccine is available. People over the age of 65 should get Fluzone High- Dose (FLUAD) because it provides better protection against flu viruses.
Door Lock Replacement Project:
Because our current lock system has become obsolete and parts can no longer be ordered, the Board of Directors has approved the purchase of a new, contactless lock system for all apartments, offices and storage areas. A vendor has been selected from the bids received and the contract has been awarded. We hope to begin the project the first week of October.
Emergency Services Launches Text-to-911 Messaging:
The St. Mary's County Department of Emergency Services has launched the Text-to-911 emergency notification system. Available statewide, this service provides an additional way for residents to reach emergency services. Text-to-911 messaging may be used by those who are deaf, hard-of-hearing, or have a speech disability. Additionally, the service can be used by people who may be in situations where it is unsafe to place a voice call or are experiencing a medical emergency and are unable to speak. To use the service, enter 911 in the "to" line of a text message, include a brief message describing your location, the emergency and type of service needed, and hit send. 911 dispatchers will respond, gather additional information as needed, and dispatch appropriate emergency responders.
St. Mary's Quilters Donates Club Account Funds to Cedar Lane
Since the 1970s, the St. Mary's County Quilters have gathered at Cedar Lane Senior Living Community for their weekly group quilting sessions. Throughout the decades, the Quilters have given fascinating demonstrations and presentations to residents. In December of 2019, they presented Mr. Fred Wilson, Cedar Lane's oldest World War II veteran, with a Quilt of Valor. After 43 years, St. Mary's County Quilters are officially disbanding. They generously decided to donate their remaining club account funds to benefit the residents of Cedar Lane, the place where they have built so many happy memories. I'm sure you join me in thanking them for their friendship now, and over the decades. They have our best wishes!
Summer Chicken Dinner #3 from Friends of Cedar Lane
Friends of Cedar Lane will treat all residents to another complimentary fried chicken dinner on Thursday, August 27, 2020. This dinner, prepared by Chaptico Market, will feature two pieces of fried chicken, potato salad, coleslaw, a roll and a cookie. Big thanks go out to resident Ben Bollinger, who contacted Chaptico Market on our behalf.
Our staff members will deliver the meal to every resident starting at 3 p.m. If you will not be here on Thursday or do not want this free meal, please opt out by calling the front desk and asking for Wanda by Tuesday August 25. You only need to call if you do not want the meal – everyone else will receive a meal automatically.
Sincerely,
Beverly Stickles President & CEO