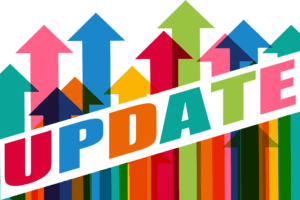 Dear Cedar Lane community members,
I am happy to share with you that Cedar Lane is now 82.7% vaccinated against COVID-19. While we are all chomping at the bit to get back to our favorite activities, it's important to stay vigilant in our safety efforts so we keep moving in the right direction. Please keep wearing those masks and practicing social distancing. Let's keep up the good work until we're out of this thing! Here are this week's news items:
"ASK ERIC" Tenant Forums
I've worked (and lived) at Cedar Lane for two months. Now that I am familiar with how things work around here, I want to meet with tenants and get to know you all as individuals. The week of May 3, 2021, I will be hosting a series of Tenant Forums in the Dining Room. During these informal chats, I will tell you my goals for Cedar Lane and ask for your feedback. Each resident is welcome to bring two questions for me to answer. There are different session options for each building's tenants. Please stop by the Front Desk to sign up. I really want to hear what you think.
Senior "Snak Pak" Program Changes
For most of the pandemic, the Southern Maryland Food Bank delivered Senior "Snak Paks" to all Cedar Lane residents. The program now has set income limits to determine eligibility. If you are interested in signing up for nutritious snacks delivered to your door, please call the Front Desk and ask for Kirk in Service Coordination.
Bernie's Back Next Week!
Bernie's Hair Salon, located on the 4th Floor of the Church Building, will reopen Wednesdays and Fridays starting April 28, 2021. Stop by to make your appointment.
Parking Lot Sealcoating Project Starting April 30
Calvin in Facilities is arranging to give our parking lots a new protective barrier. This project will require everyone's cooperation. Soon, we will provide you with directions on where to park on specific days/times.
$50 Stipend for Cedar General Store Clerks
I am anxious to reopen the General Store by June 1, 2021, but we need your help to do it. We are looking to hire three store clerks and give them each $50 per month to work a rotating shift of 5-10 hours per week. If you would like to be considered for one of these positions, call the Front Desk and ask for Kirk in Service Coordination.
Produce Stand Returns – May 13
The Southern Maryland Food Bank team will be back to hand out more free produce on the Cedar Lane patio from 10:30 a.m. to 12:00 noon. Bags will be provided but you may want to bring your cart to carry your goodies home.
On this day in history:
1931 — US gangster film "The Public Enemy" starring James Cagney and Jean Harlow premiered.
1954 — Hammerin' Hank Aaron hit the 1st of his 755 homers.
1965 – The Four Tops released their hit single "I Can't Help Myself (Sugar Pie Honey Bunch)," which went on to become the Billboard Song of the Year.
1985 – New Coke made its debut, as Coca-Cola announced it changed its secret flavor formula.
Thank you for your continued support, and as always, please feel free to contact me at egolden@cedar-lane.org or 301-475-8966.  Until next time, be well and stay safe!
Sincerely,
Eric Golden
President & CEO