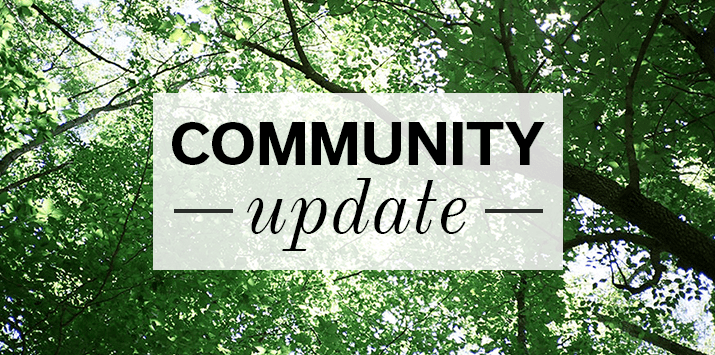 Dear Cedar Lane residents, families & friends,
How do you find gratitude in a year like 2020? Our day-to-day routines were upended, the future became uncertain and our social interactions became risky. This year has taken a toll, but there is always, ALWAYS, ALWAYS a reason to be thankful.
I am thankful for the many people in our community who are acting responsibly to safeguard their health and the health of their neighbors during this challenging time. What are you grateful for this year? Family and friends (even if they are socially distant)? Laughter? Delicious food? A beloved pet? Music? A good book? Your favorite movie? Little acts of kindness? Memories of a special someone? Sometimes, focusing on just one blessing is all we need to get us through another day of 2020. Here are this week's news items.
Resident in Quarantine Tests Negative for COVID-19
As we shared on Tuesday, November 17, a Cedar Lane resident who had been exposed to a COVID-positive service provider was in quarantine while awaiting test results. We are happy to report that those test results are negative. The resident will remain in self-quarantine through November 28 to ensure no symptoms appear.
Thanksgiving Meal sponsored by Friends of Cedar Lane – November 24
A complimentary Thanksgiving meal will be delivered door-to-door beginning at 3 p.m. on Tuesday, November 24. Everyone who has not opted out will be receiving the Cracker Barrel meal. We ask that you be home at this time and wear a face mask when answering the door. If you won't be home, please call the Front Desk and let us know so we can remove you from the list of deliveries. We are skipping the plastic utensils this time in an effort to reduce environmental impact.
Health Department Recommendations for Thanksgiving with Family
Local health experts have issued guidance to keep you and your family safe when planning Thanksgiving dinner. According to the St. Mary's County Health Department, members of vulnerable populations who reside in congregate settings, who choose to visit individuals outside of their immediate household for the Thanksgiving holiday, are recommended to quarantine for 14 days and to have a COVID-19 test done on day 5 or 6.  If the COVID-19 test comes back negative, the quarantine can end. Staff are also advised to limit their celebrations to the people in their own households. I personally will not be getting together with extended family this Thanksgiving. Just like you, we are doing our best to keep this community safe.
Get Connected. Get Help.™
The ongoing pandemic has significantly impacted the mental health of many in our state. If you or a loved one is struggling, call 211 or text your zip code to 898-211. Assistance is available 24/7 and in over 180 languages.
Thanksgiving Holiday Closings
Cedar Lane offices will be closed Thursday, November 26. There will be a very limited staff on Friday, November 27.
All St. Mary's County Government administrative offices will be closed Thursday and Friday, November 26 and 27
The St. Mary's County Transit System (STS) will not operate on Thanksgiving Day. STS service will resume Friday, November 27, 2020, operating on a Saturday schedule, with only Routes 6, 7, 11, 12 and 14 running. A complete schedule of regular STS services is available online.
Maintenance Concerns and Extermination Update
To report a facilities issue in your apartment or in any common space, call the Front Desk and ask the receptionist to submit an official work order. If you would like an update on your work order or the issue is not resolved, please contact our Facilities Director Calvin Boozer. Recently, two residential zones were professionally treated for bed bugs. A post-treatment visual inspection by a certified inspector will take place on Monday. Mocha, the bed bug-sniffing canine, will perform a follow-up inspection in two weeks. Bed bugs are a growing problem across the country. If you suspect a bed bug issue in your apartment, it is important for you to report it immediately to the Front Desk. We will inspect your apartment and arrange for eradication treatment as necessary, at no cost to you.
 St. Mary's County Library Hours
Library buildings are open by appointment for computer, copier, and fax use only. Appointments for curbside pickup of holds are also available. To make an appointment with the Leonardtown Library location, call 301-475-2846. All Library locations will close at 5 p.m. on Wednesday, November 25 and remain closed through Friday, November 27, reopening at 12 p.m. on Saturday, November 28.
December Happenings
December 3 – Free creamy garlic chicken pasta meal for residents. Your favorite people from the Southern Maryland Food Bank are heading back to Cedar Lane with a delicious pasta meal, complete with a roll, fruit and dessert. RSVP is required by November 29. Call the Front Desk and ask for Kirk or Crystal to reserve your meal.
December 9 – Calvert Community Dental Care is offering free dental screenings for seniors at their Lusby clinic. Anyone over 55 is welcome to make an appointment by calling 410-535-8402. After a screening, you will be given treatment recommendations.
 With the stories on the news these days, looking for bright spots can be a challenge. I am sure you join me in hoping the end of the year brings news for our gratitude list. I wish you all a safe and peaceful Thanksgiving.
Sincerely,
Beverly Stickles
President & CEO
Cedar Lane Senior Living Community