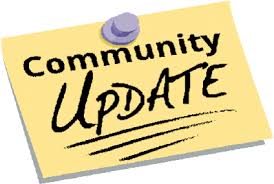 Dear Cedar Lane tenants, families and staff members,
Spring is here and signs of a fresh start are all around us – from the new mulch in the planting beds to the colorful decorations in the common rooms. Are you ready to start filling 2021 with some great memories? You're in the right place! Here are this week's news items.
WE'RE READY TO SAFELY WELCOME BACK VISITORS
Beginning April 1, 2021, friends and family members are welcome to Cedar Lane during the hours of 8 a.m. to 5 p.m. Monday through Friday. Please limit your visitors to two at a time.
WE'RE READY TO RESUME SMALL GROUP ACTIVITIES
Starting Monday, Tonya will have sign-up sheets on the bulletin board by the Dining Room for some of Cedar Lane's favorite games, clubs and activities. There is something for everyone, so I hope you'll all get involved.
LET US KNOW WHAT ACTIVITIES YOU WANT TO SEE
Friends of Cedar Lane are asking for your thoughts and opinions on the outings, events and experiences you want most. Every resident is encouraged to pick up an activity survey in the lobby, fill it out and drop it off at the Front Desk no later than March 31. We want to know what you think.
VISIT THE PRODUCE STAND FOR FREE FRUITS & VEGGIES APRIL 1
Southern Maryland Foodbank will be setting up a produce stand on the patio from 10:30 a.m. to 12:00 p.m. on April 1. All tenants are invited to come outside to pick up some free produce. Bags will be provided, but feel free to bring your cart, if you like. There is no need to rush down at the start of the event – per person limits will apply to ensure there is enough for everyone. Don't forget to wear your mask and practice social distancing. We'll have a temperature check at the patio door so you can come back in the same way you went out.
 CEDAR LANE OFFICES CLOSED FRIDAY, APRIL 2
In observance of Good Friday, Cedar Lane offices will be closed on April 2 so please plan accordingly. Regular operations will resume at 8 a.m. on Monday, April 5.
NEED A RIDE TO GET THE VACCINE?
St. Mary's County is providing free rides on the STS bus to vaccine sites. Call the Front Desk and ask for Crystal or Kirk to schedule your ride.
NEED INFORMATION ON MEDICARE PART D AND OTHER PRESCRIPTION DRUG PROGRAMS?
Shopping for the most cost effective prescription plan can be overwhelming. Debbie Barker from the Department of Aging & Human Services will be on campus April 14 to help you find the best coverage at the right price. Walk-ins are welcome, starting 1 p.m. in the new meeting room on the third floor of the Church Building (formerly Tonya Tyer's office).
THE GENERAL STORE AND BERNIE'S HAIR SALON WILL OPEN SOON
Stay tuned for updates!
CEDAR LANE IS A SMOKE-FREE CAMPUS
As a reminder, the only area where tenants are permitted to smoke is the outdoor gazebo area at the far end of the parking lot. Please note that Cedar Lane does not permit smoking in cars or on the surrounding roadways. I appreciate everyone's cooperation with this policy.
As always, we appreciate your support as Cedar Lane takes these initial reopening steps. You can assist us by remaining vigilant but sensible in your approach to increased opportunities to visit with family and friends. I wish you all a great weekend!
Sincerely,
Eric Golden
President & CEO