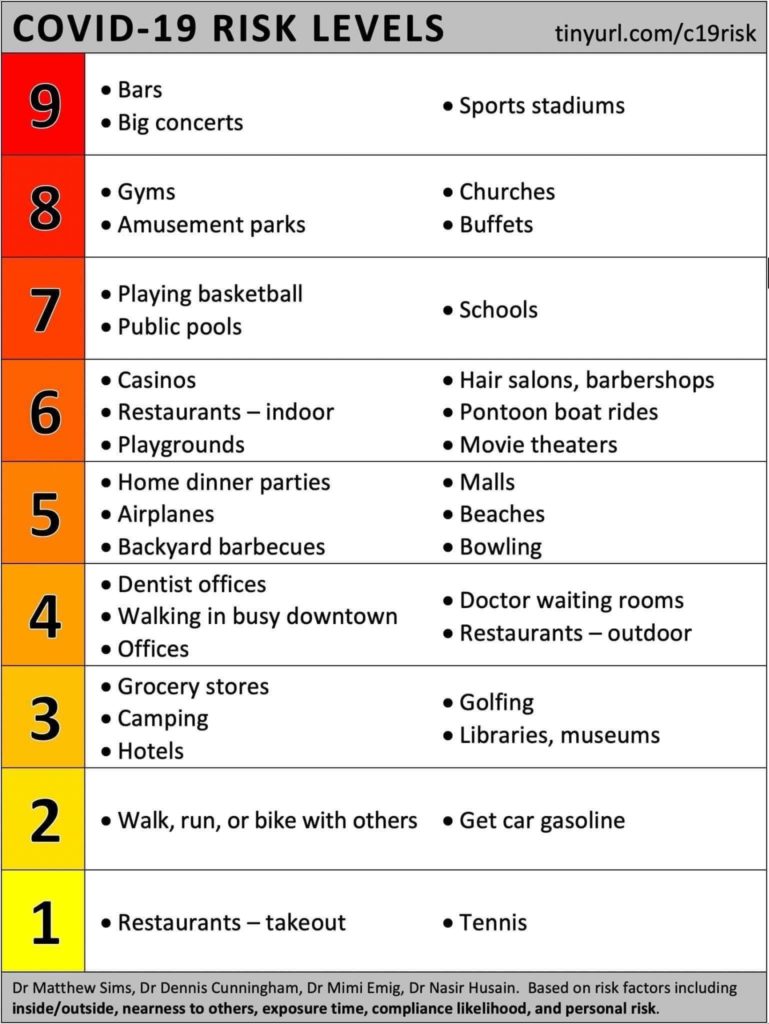 Community Update: June 26, 2020
Dear residents, families, staff, caregivers and friends:
Summer has officially arrived and it's shaping up to be a summer unlike any other we have experienced. I hope we can all find ways to stay positive as we work to adapt to life in an ongoing health crisis. This week, we want to share the following news items with you:  
Universal Testing for COVID-19 at Cedar Lane:
While the majority of our community members have received their results from last week's universal testing, seven tests needed to be re-administered this week due to unclear findings. Once all results are in, I will share a summary with the entire community. Thanks again to everyone who contributed to a 90% participation rate. What a great way to come together when it really counts.
Deliveries:
If you are expecting a furniture or large item to be delivered, please notify the front desk in advance so that our staff can assist in delivering the item to your apartment. 

COVID-19 Risk Levels:
The chart at the top of this post outlines COVID risk factors as we venture outside our apartments.  The factors are based on inside/outside, nearness to others, exposure time, likelihood of compliance and personal risk.


Hand Sanitizer:
The FDA advises consumers not to use any hand sanitizer manufactured by Eskbiochem SA de CV in Mexico, due to the potential presence of methanol (wood alcohol), a substance that can be toxic when absorbed through the skin or ingested.  FDA recommends consumers stop using these hand sanitizers and dispose of them immediately, do not pour the product down the drain or flush in the toilet.  CDC recommends washing our hands often with soap & water for at least 20 seconds, especially after going to the bathroom, before eating, after coughing, sneezing or blowing one's nose.  If soap and water are not readily available, use an alcohol-based hand sanitizer that contains at least 60% ethanol.
St. Mary's County Health Department (SMCHD) Announcements:
SMCHD will continue to provide free COVID-19 drive through testing for St. Mary's County residents; a physician's order is not required.  Current locations include:
Lexington Park Volunteer Rescue Squad, Monday – Friday 8:00 a.m. to 3:00 p.m., no appointment is necessary
SMCHD- Monday & Wednesday, 9:00 a.m. – Noon, appointment required
Are you in need of a copy of your birth certificate?  SMCHD is now accepting birth certificate applications by mail.  Please call Kirk at 301.475.8966 ext. 14 for assistance.
2020 River Concert Series:
The annual River Concert Series at St. Mary's College will be held virtually this summer.  The concerts are on Friday evenings at 7:00 p.m. starting on June 26, July 3, 10, 17, 24, and 31.  To access the concert, go to the St. Mary's College of Maryland website and click on the "Virtual Series" tab.  If you miss the concert, the video performance will be archived so you can view the concert at your convenience.
July 2 Resident Dinner Hosted by Friends of Cedar Lane:
Be sure to work up an appetite next Thursday — the Friends of Cedar Lane are treating all residents to another free fried chicken dinner! Kevin's Corner Café will be cooking up a summer feast just for you. Each meal will feature four pieces of chicken (a breast, a leg, a wing and a thigh), a baked potato, green beans and chocolate pudding for dessert. We've heard some great things about Rita B's fried chicken dinner. Now try Kevin's and tell us which you like best. It's a deep fried battle of the taste buds!
Our staff members will deliver bagged meals to every resident starting at 3 p.m. on Thursday. Look for a special surprise from Activities Coordinator Tonya in your bag! If you will not be here on Thursday or do not want this free meal, please opt out by calling the front desk and asking for Wanda Fenwick by Monday, June 29. You only need to call if you do not want the meal – everyone else will receive a meal automatically.
Independence Day Holiday:
Cedar Lane offices will be closed on Friday, July 3 for the holiday. We hope you have a safe, happy and healthy Fourth of July Weekend.
St. Mary's Transit System (STS) and Statewide Transportation Assistance Program (SSTAP) will be closed on Saturday, July 4.  STS will be open for normal business hours prior to and after the holiday.  SSTAP will return to its normal schedule on Monday, July 6. 
A Sad Farewell to a Former Colleague, Frances Clayton:
On a final note, it is with great sadness that we confirm the death of our former colleague Frances Clayton, who lost her battle with COVID-19 on Sunday, June 21, 2020.  Frances worked in Cedar Lane's Assisted Living program for more than 15 years before the program closed in 2016.  She also provided private duty services and was a source of exceptional care, comfort and compassion for the people she served. Frances is one of 48 people in St. Mary's County who have died due to COVID-19.  Several of you have shared with me, that you too have lost loved ones to this pandemic.  My heart goes out to each of you, please accept my condolences.  During this stressful time, be sure to practice good self-care and be kind to others.
Sincerely,
Beverly Stickles
President & CEO