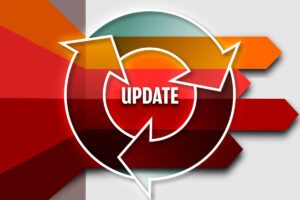 Dear Cedar Lane community members,
Ready for some good news? This Sunday is both Father's Day and the official start of summer. We also have plenty of exciting things happening here at Cedar Lane Senior Living Community.
The St. Mary's County Department of Aging & Human Services lunch at Cedar Lane will return to in-person dining starting Tuesday, July 6, 2021
Did you know that Cedar Lane is a nutrition site for the county's Congregate Meal Program? Starting July 6, 2021, Cedar Lane residents can enjoy fresh, hot meals Monday through Friday from 11:30 a.m. to 1 p.m. in the Dining Room. To participate, you must sign up at the Front Desk before noon the day before the meal (before noon on Friday for Monday's meal). Participation is limited to the first 60 people to sign up each day. Please note, this in-person dining program replaces the bagged lunches that were implemented during the COVID-19 pandemic.
Exciting Facilities Improvements Are Underway
This week, contractors prepared and paved the gravel parking area in front of the building, and are in the process of adding enhanced lighting to Cedar Lane's exterior. I hope you're as happy to see these improvements as I am.
Social Events Have Been a Big Hit
Since our last update, Cedar Lane has relaunched complimentary morning coffee service in the Dining Room and reintroduced the Sunshine Club greeting committee for new residents. We also held a "Neighbors Meeting Neighbors" event to enable the tenants who have moved in since March of 2020 to meet some longtime residents and make new connections. Today, Tonya has planned a Father's Day Car Show complete with hot rods and hot dogs.
Hot Weather Advisory – Remember to Hydrate
With the arrival of summer comes the arrival of hot weather. Staying hydrated is very important as water helps the body maintain a normal temperature. Older people have less water in their bodies and, therefore, need to drink plenty of water. Thirst can set in without you even realizing it. Seniors can try this guideline for daily water intake: your body weight in pounds divided by two. The result is the number of ounces of water to drink each day.
Pet Owners – Check For Hot Asphalt to Protect Your Dog's Paws
On a 77-degree day, dark pavement can be HOT – as hot as 125 degrees. That's too hot for your dog's paws. A good test is to place your hand on the asphalt and if it feels hot to your touch, don't walk your dog on it. During summer months, protect your dog's paws by walking on dirt or grass and sticking to early morning or late evening walks.
Free Produce Stand – July 8
Mark your calendars: the Southern Maryland Food Bank team will treat Cedar Lane residents to more free vegetables and fruit this July. You can visit the produce stand out on the Cedar Lane Patio 10:30 a.m. to noon.
Senior Farmers Market Nutrition Program
The Garvey Senior Center is offering eligible seniors a total of $35 in checks to use at participating farmer's markets. For more information about eligibility criteria, or about the distribution procedures, call 301-475-4200, ext. 1072.
To all of the fathers in our community, I want to wish you a very happy Father's Day. To everyone else, I hope you have a great start to the summer season.
Sincerely, 
Eric Golden, President/CEO