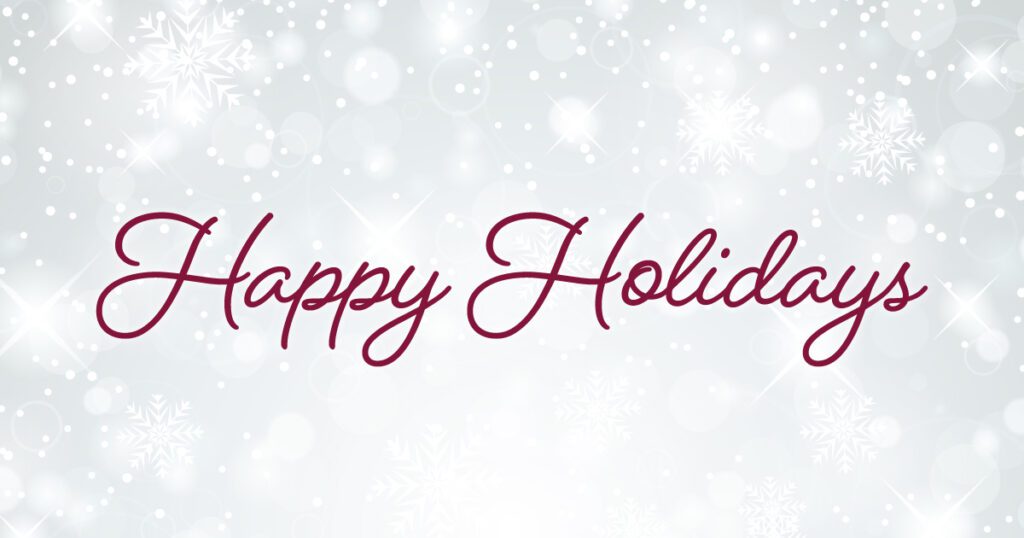 Dear Cedar Lane residents, families & friends,
We made it to the end of a very challenging year! This holiday season, I hope we can all choose to focus on the positive. Tops on my list is the fact that we still have no known cases of COVID-19 at Cedar Lane. Our community is truly one of the most caring, creative, resourceful, and resilient around. For that, I am grateful. Here are this week's news updates:
Ugly Holiday Sweater Day – Monday, December 21
It's time to rock the reindeer and bring on the jingle bells. We hope you join us in wearing your craziest holiday sweater with pride on Monday. Just for fun!
Holiday Door Decorating Contest – Monday, December 21
We see that many of you have decked the halls in anticipation of the season and in preparation of Cedar Lane's door decorating contest. Our judges will make the rounds on Monday to see what you have created and choose winners for the first, second and third prizes. Please note: decorations that do not adhere to the contest guidelines will not be considered for a prize.
 Holiday Meal from Friends of Cedar Lane – Tuesday, December 22
Unless you have opted out, please make plans to be home on Tuesday starting at
3 p.m. to receive your holiday meal, compliments of Friends of Cedar Lane. The dinner, which features turkey, ham, mashed potatoes, stuffing, gravy, green beans, a roll with butter and a brownie, was made by Caney Creek Catering. Special thanks to resident Ben Bolinger for working with the caterer to make this meal possible.
 Holiday Drive-By Parade – Wednesday, December 23
The students of Leonardtown High School are bringing a mini car parade to Cedar Lane at noon on Wednesday. Watch and wave as they circle our campus a few times, sharing holiday greetings and joy. It's all the spirit of the season — at a safe social distance!
 What happened to Channel 9?
We have learned that customers across the country have lost TV stations due to a dispute between AT&T (which owns DirecTV) and broadcaster TEGNA. The communications company and the broadcaster have failed to reach a new agreement, resulting in the loss of CBS Channel 9 here at Cedar Lane. AT&T has posted on their website that they appreciate your patience while they work this matter out with TEGNA.
 What happened to Channel 8?
Channel 8 went dark on Thursday evening. We can confirm that it is not a problem with our equipment. We don't yet have clarification from DirecTV on what the issue with Channel 8 is, and will keep you apprised of what we do learn.
 Door Lock Replacement
A contract has been signed and we anticipate the new door locks to be installed in February.
Mourning the Loss of Eddie Bailey
I was saddened to learn that Eddie Bailey passed away on December 15, 2020. Mr. Bailey was a former St. Mary's County Commissioner and founder of Olde Breton Inn and Bailey's Catering. Over the years, he has been a real friend of Cedar Lane, making monetary donations and supplying all the ice cream for our ice cream socials. He even donated use of Olde Breton Inn as venue space for the Mardi Gras Gala to benefit Cedar Lane. He was a pillar of the community and will be missed.
COVID-19 Vaccine Information
We have learned that residents and staff of Cedar Lane are included in group 1B on Maryland's prioritization list. This means we will not be included in the first phase of vaccinations, which has already begun and includes hospitals, first responders and long-term care residents and staff. We are in the process of developing a COVID-19 Vaccination Plan, including a list of frequently asked questions and answers provided by the CDC. When the vaccine is made available to us, it will not be mandatory for you to take the vaccine and there is no fee to you. Service Coordinators will assist residents in completing the consent form and copying insurance information. We will do our absolute best to assist you in making an educated decision. It is your choice but I can tell you that I plan to take the vaccine. I will be first to volunteer to get the shot. I hope you will consider taking it too. This could be the dose of hope we all need.
Kenny Shorter promoted to Maintenance Technician II
I'm very pleased to announce that Kenny Shorter has been promoted to Maintenance Technician II. For the past two years, Kenny has been a huge asset to the maintenance team, providing exceptional knowhow and customer service. Please join me in congratulating him and wishing him the best in his new role.
I wish you and your loved ones a holiday season filled with happiness and good health as we look forward to brighter days in 2021. New year? Yes please!
Sincerely,
Beverly Stickles
President & CEO
Cedar Lane Senior Living Community